Foxy is a nickname of a fanimator Katja
Foxy (youtube: kirarixx2/foxychii), real name Katja. She is born in Russia in 20-04-1993. Now she lives in the Nederland since she was 8. She lives with her mom and dad. She wants to enter the ARTS-academie Willen de Kooning in the Nederland.
youtube account since:
28 april 2010 http://www.youtube.com/kirarixx2 (old)
1 april 2010 http://www.youtube.com/user/foxychii (new)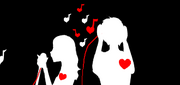 Deviantart account:
http://2orange-sheep.deviantart.com/ (old)
http://foxy-chii.deviantart.com/ (new)

See also:
-Cherryfactory http://www.youtube.com/user/CherryFactory
-Kiryuu Miyu / KondouSachiko http://KondouSachiko.deviantart.com/ / http://fanime.wikia.com/wiki/Kiryuu_Miyu
Ad blocker interference detected!
Wikia is a free-to-use site that makes money from advertising. We have a modified experience for viewers using ad blockers

Wikia is not accessible if you've made further modifications. Remove the custom ad blocker rule(s) and the page will load as expected.