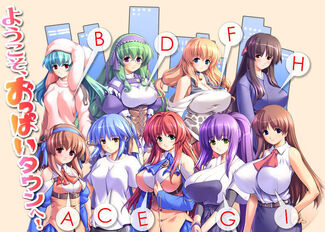 Jijitsu (事実) is a harem manga series released by Tokyopop.
Characters
Edit
Fukumi Sawamura (福見澤村) A-Cup
Subaru Aoi (スバル葵) B-Cup
Chie Yamada (千絵山田) C-Cup
Midori Aoi (みどりあおい) D-Cup
Honoka Ishizuka (ほのか石塚) E-Cup
Junko Hosoi (純子細井) F-Cup
Moe Sakuraba (萌え桜庭) G-Cup
Rin Sawamura (凛澤村) H-Cup
Aya Urashima (綾浦島) I-Cup
Volume List
Edit
| No. | Published | Chapters | Description |
| --- | --- | --- | --- |
| 1 | November 17, 2000 | 1-13 | The story depicts the life of schoolboy Kei Hiraga visits his grandmother's house, which is populated only by women, several of whom have enormous breasts. He falls in love with an A-Cup named Fukumi Sawamura. Suddenly, Junko Hosoi has a prophecy-fulfilled romantic encounter with Kei on the way to school! Subaru Aoi and Midori Aoi gives Kei a tight hug. Kei finally go out on a date with Fukumi, but her older sister Rin Sawamura gets in their way. Finally, Kei meets Chie Yamada and Moe Sakuraba, who accidentally fell on him (Kei's face ends up on Chie's butt and Moe begins to laugh). |
| 2 | April 8, 2001 | 14-26 | Kei meets Aya Urashima, he suddenly falls on her (Kei's face lands on her breasts). Aya quickly falls in love with him. Fukumi believes that Kei is a mysterious peeping tom who has been photographing the girls around school. Kei accidentally sees Fukumi's underwear and she runs away crying. Soon, Kei comes to realizes that Honoka Ishizuka doesn't wear underwear. |
| 3 | January 13, 2002 | 27-39 | Fukumi has chosen Kei as her "one and only". But, all the girls gets jealous and tries to kiss Kei, but Kei confesses his love for Fukumi. Both of them live happily ever after. |
Ad blocker interference detected!
Wikia is a free-to-use site that makes money from advertising. We have a modified experience for viewers using ad blockers

Wikia is not accessible if you've made further modifications. Remove the custom ad blocker rule(s) and the page will load as expected.