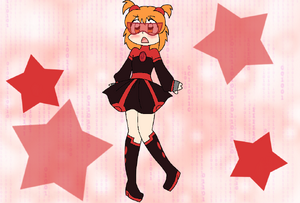 Jinko Chino Rumble is a ongoing, sci-fic magical girl fanime series created by Coco Sweet. It was released on December 2014 and January 2015, the first two episodes. Episode 3 is still on the work/ still on hold/ officially in productions-- it is not cancel nor stopped at all. The story about a school girl as a heroine face off the odds of computer, robots of darkness-- but it was chosen by a talking phone.
TBA
Characters
Edit
TBA
Ad blocker interference detected!
Wikia is a free-to-use site that makes money from advertising. We have a modified experience for viewers using ad blockers

Wikia is not accessible if you've made further modifications. Remove the custom ad blocker rule(s) and the page will load as expected.