Kiryuu Miyu (a.k.a. Kondou Sachiko) is the nickname of a beginning novelist and graphic designer named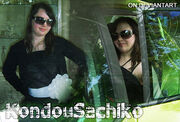 Debby.
Miyu's (deviant: KondouSachiko) real name is Debby. She was born of March 27 in 1992 in the Netherlands. She lived with her mom and dad untill March 17 2010, but now she lives with her mom after the divorce of her parents. Miyu followed the education to become a secretary untill Juli 2011, and now she is searching for work. After the summer of 2012 she's planning to follow the education Communication and Multimedia Design.
Miyu is working on novels in her free time.
Puchii Love
Edit
Puchii Love is a Yaoi (boys love) story that started on May 2 2009.
Puchii Love is about the 18 year old Kisho Takashi who falls in love with his homeroom teacher Daichi Yuu. Takashi also has some weird curse on his body, what makes him able to 'transform' into a girl. Takashi thinks that he was actually born as a girl, but his parents lied about that to him.
The story was on-hold from summer 2009 untill summer 2011, and now she's planning to continue the story. She is making a website for Puchii Love, and it will be revealed soon.
The story is also being turned into a Manga by her best friend Madoris. Madoris has started working on the Manga in 2009, but now she is picking up the Manga again.
Designing
Edit

Miyu also likes to make wallpapers, avatars, signatures ect, so she has also uploaded some wallpapers on her deviantart account. She tries to improve herself in every way she can, because she wants to make beautfull wallpapers.
Miyu has a account on YouTube and she's named AmritaDoll. She doesn't use her YouTube account that much. The link to her YouTube account is http://www.youtube.com/user/AmritaDoll
DeviantART
Edit
Miyu's deviantART account is named KondouSachiko. She got the name for this account by using a japanese name generator. On her deviantART page, she has stated the meaning of the name Kondou Sachiko and the kanji for the name. Even though she's named Kondou Sachiko now, she mostly updates her journal with Kiryuu Miyu. The link to her deviantART account is http://kondousachiko.deviantart.com
Miyu also has a twitter account. Most of her tweets are in English so everyone can follow her. One day she is very active on twitter, and then she doesn't tweet for a few days. The link to her twitter account is http://web.archive.org/web/20110203065352/http://twitter.com/KondouSachiko
Foxy: http://fanime.wikia.com/wiki/Foxy / http://foxy-chii.deviantart.com / http://www.youtube.com/user/foxychii
Madoris: http://madoris.deviantart.com
Veerle-chan: http://veerle-chan.deviantart.com
Miyu's website: http://www.CherryStories.nl (Dutch)