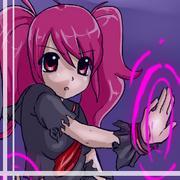 Manamei is a fanimator on Youtube with 1500+ subscribers. She is currently working on Orange Moon and Doki Doki Demon. She's probably one of the laziest amoung all of the fanimators, considering she hasn't even made a full opening or ending to any of her fanime, nor does she have any voice actors casted. But everyone in the community still loves her anyway due to her kind and sensitive nature.Manamei has a certain style, but it's new and not well-known. She can't keep a style for drawing, but she tries. Manamei is often called Mei-chan or Mana. And by her shiny desu BFFS Mana-bitch/Mana-Tits.
Ad blocker interference detected!
Wikia is a free-to-use site that makes money from advertising. We have a modified experience for viewers using ad blockers

Wikia is not accessible if you've made further modifications. Remove the custom ad blocker rule(s) and the page will load as expected.