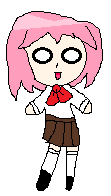 Miku Usui
- As a running gag of the series, every time
Chiyo Honjo
kills Miku, she comes back to life. Since then her life has become one of bloody clubbings and resurrections. Miku suffers from apiphobia (a fear/dislike of bees) in which she suffers an allergic reaction whenever he comes into contact with one bee. Miku's greatest desire is to become Chiyo's friend instead of being her victim.
Appearances
Edit
Miku has short pink hair. In school, she wears her uniform. On the beach, she wears her green swimsuit. When sleeping, she wears her white shirt and black shorts.
Throughout the series, Chiyo has also killed and resurrected Miku at least a lot of times in each:
Ad blocker interference detected!
Wikia is a free-to-use site that makes money from advertising. We have a modified experience for viewers using ad blockers

Wikia is not accessible if you've made further modifications. Remove the custom ad blocker rule(s) and the page will load as expected.