thumb|300px|right|School Champloo Episode 3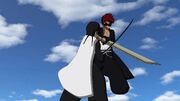 School Champloo is a mix of influences from School Rumble and other popular animes. It aims to poke fun and parody just about anything and everything out there. Currently three episodes are available on youtube.com
Synopsis: Rei Tsukamoto, is your average high school girl with a penchant for making movies of her favorite animes. Her best friend Yui Shinosuke and little brother Jun often star in her films. Yui has a love interest with Kenji Aragaki "The cool glasses guy" while Kenji's friend Ryu Asano is madly in love with Rei although she doesn't know or care. Incidently Kenji is unaware of Yui's love. A coincidence school project puts Kenji and Rei together.
The anime style show can be found under 1x93cm on youtube.com
Ad blocker interference detected!
Wikia is a free-to-use site that makes money from advertising. We have a modified experience for viewers using ad blockers

Wikia is not accessible if you've made further modifications. Remove the custom ad blocker rule(s) and the page will load as expected.