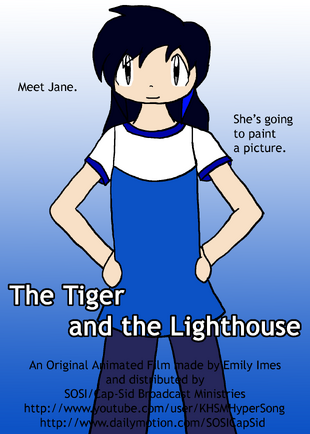 The Tiger and the Lighthouse
is a film created and animated by
SOSI/Cap-Sid Broadcast Ministries
in 2010. The film is released in a series of 10 parts, the first being released June 11, 2010. While the film is lengthy, it is not considered a full-length movie; Stardust has stated the movie runs almost forty minutes long.
The Tiger and the Lighthouse is also known by a shorter name, ToX3. This name comes from its Japanese name, とらととうだい (Tora to Toudai). No part of the movie is actually in Japanese; the short name is simply used when a smaller name for the film is needed, and only in background references.
The Tiger and the Lighthouse will be released on both YouTube and DailyMotion, where SOSI/Cap-Sid has a MotionMaker account.
Middleford University senior Jane Smith is two and a half weeks away from graduating with her art degree. She thinks she's got it all together -- but she obviously doesn't. A random act of kindness will throw a stranger into her world who will change how she sees everything, especially herself.
Part 1 (released June 11, 2010, runtime 4:41)
Jane Smith lives by her paintbrush. She's been too busy focusing on her senior project, a huge exhibit of all of her paintings, to focus on much else. She invites everybody she can, putting up posters advertising the exhibit in the art building. When she goes back to class the next Monday, nothing has changed -- or has it? While working on a project for class, Jane's computer blue-screens on her, which causes her to find something she didn't see before...
SOSI/Cap-Sid's YouTube Page (KHSMHyperSong)