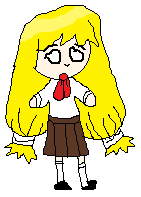 Tomoko Tanaka
- Tomoko is Miku's close friend and a wealthy girl. During the series, she is to aid
Miku Usui
in finding a cure for Miku's phobia for bees. She is manipulative, cunning, highly intelligent, athletic, and sadistic. But she is good person actually.
Appearances
Edit
Tomoko has long blonde hair. In school, she wears her uniform. On the beach, she wears her white bikini. When sleeping, she white dress.
Ad blocker interference detected!
Wikia is a free-to-use site that makes money from advertising. We have a modified experience for viewers using ad blockers

Wikia is not accessible if you've made further modifications. Remove the custom ad blocker rule(s) and the page will load as expected.